IN THIS ISSUE
The Falling Handkerchief
Tomorrow, the most toxic legislative session in memory comes to an end when the two Sergeant-at-arms drop their handkerchiefs. The legislative supermajority isn't particularly enthusiastic about all the bad bills they are passing and may have gone along out of fear. We start with a review of what they did.
Baiting the Faculty The Legislature waited until the last minute to get to us. For details, see below or click here.
Conventional wisdom is increasingly convinced that
this is all about the 2024 election
even though nationally,
many voters aren't all that into the whole woke vs. anti-woke
battle. But there are other possibilities (e.g., it
is
possible that the politicians pushing this agenda because they believe in it). But considering that the new laws will do Florida considerable harm and may not play well nationally, a third possibility is something similar to that of Pennsylvania party boss
Boies Penrose
a century ago: after a maneuver that a colleague complained would ruin the party and cost the party the election, Penrose allegedly responded, "Yes, but I'll preside over the ruins."
Whatever the motives, we are not resigned to be stage props in someone else's political theatre.
What Now? The immediate problem for the union is legislation targeting the union. The UFF Senate had an emergency meeting on Sunday to address the crisis. For more, see below or click here.
Meanwhile, the New College leadership is living down to our expectations. Readers may recall that the
20 April 2023 Biweekly
observed that the new board and its new president regarded the institution as political spoils in a manner reminiscent of Boss Tweed…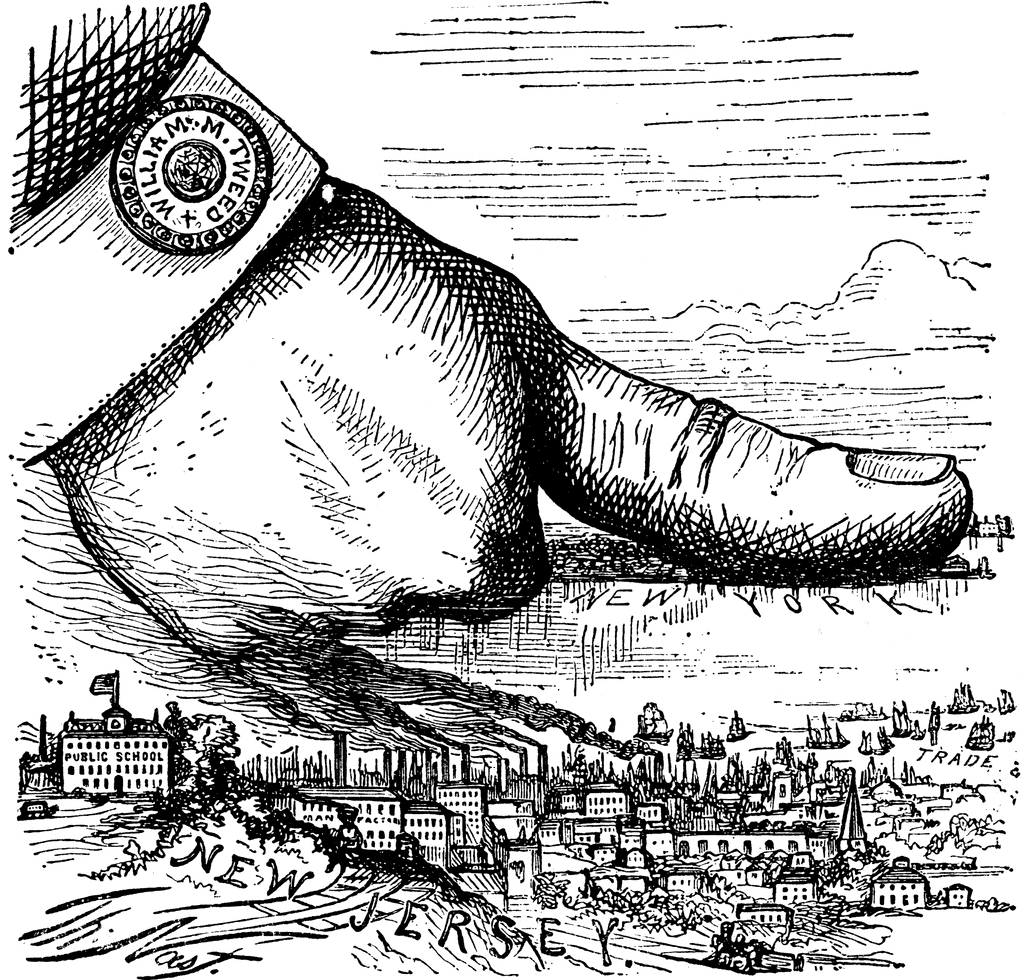 Thomas Nast's "Well, what are you going to do about it?" posted by USF's Florida Center for Instructional Technology
New College President Richard Corcoran recommended against tenure for five candidates who had already been approved at all levels, and
the Board complied [USF login required]
. That could open up five positions for Boss Corcoran's patronage. And
pink slips are already going out to middle management
, opening up more positions...
It's May again, and time for the annual...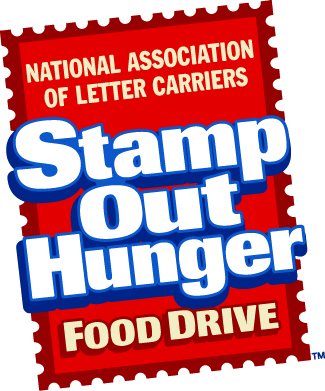 Participating carriers will pick up nonperishable goods from mailboxes on Saturday, May 13.
And Happy Cinco de Mayo!
Chapter Meeting Tomorrow Friday STARTING EARLY at 11:30 am on USF Tampa in EDU 415 - and on Zoom
The USF Chapter of the United Faculty of Florida will meet tomorrow Friday at 11:30 pm on USF Tampa in EDU415 - and on Zoom. On the agenda: what happened this legislative session and what we are going to do about it. And here are the minutes for the previous meeting.
Any employee in the Bargaining Unit may attend, but to Zoom in you must have an invitation: contact the Chapter Secretary to get one.
Meetings and events are posted on the Events Calendar of the UFF USF Website. Come and check us out.
Join UFF Today!
Benefits of membership include the right to run and vote in UFF chapter and statewide elections; representation in grievances (UFF cannot represent a non-member in a grievance or litigation); special deals in insurance, travel, legal advice, and other packages provided by our affiliates; free insurance coverage for job-related liability; and the knowledge you are supporting education in Florida. Here is the membership form. Come and join the movement.
Grievances
If you have been the victim of a violation of the Collective Bargaining Agreement or the recent Memorandum of Understanding, you have thirty days from the time you knew or should have known of the violation to file a grievance. If you are, and at the time of the violation were, a dues-paying member of the United Faculty of Florida, you have the right to union representation. To contact the UFF USF Grievance Committee, go to the Grievances Page.
USF United Support Fund for Food Pantries
Many of our students are struggling during this crisis, and the USF Foundation is supporting the USF Food Pantries to help out. They are accepting non-perishable donations, but one can also make monetary donations for the pantries at St. Petersburg, Sarasota / Manatee, and Tampa.
We are on Social Media
Yes, we are on social media.
If you want to help with media matters, contact
the Communications Committee chair
.
Baiting the Faculty
Amidst the landslide of bad legislation are two bills that will impact then union and Florida higher education.
Union-Busting. Senate Bill 256 / House Bill 1445 is rather like a box of nails scattered across a highway. As described in the 20 April 2023 Biweekly, the two biggest nails are banning union dues payments by paycheck deduction and a requirement that almost all public employee unions have at least 60% of the employees that they represent as dues-paying members. ("Almost all" as unions for police, fire, and correctional personnel are exempt.) The Senate passed their bill 23-17 and the House passed the Senate's bill 72-44. Since governor has pushed this bill, he will almost certainly sign it.
Son of Stop Woke. Senate Bill 266 / House Bill 999 directly targets higher education. University presidents (perhaps with advice from deans and such) will hire and fire faculty, the union grievance process is hobbled by barring neutral arbitration, and diversity / equity / inclusion programs not mandated by accreditors and other external bodies are banned. The bill also imposes restrictions on the viewpoint diversity, intellectual rigor, and evidence-based approaches to history instruction while mandating recognition of "the importance of viewpoint diversity, intellectual rigor, and an evidence-based approach to history" - a muddle that invites creative interpretations of the law. The Senate voted for their bill 27-12 and the House voted for the Senate bill 81-34. Although this bill doesn't provide everything the governor wanted, he probably will sign it and vow to get the rest next year.
What Now?
The primary policy-setting body of the statewide United Faculty of Florida is the Senate, and UFF President Andrew Gothard called an emergency meeting on Sunday after it became plain that Senate Bill 256 / House Bill 1445 was going to pass. Gothard sounded a Churchillian note, stating that, "Our Opposition hopes that we will splinter" in the face of the legislative mandates, but observing that "We have solidarity," vowed that UFF will emerge "the strongest that we have ever been." But first, we must deal with the legislative mandates.
The mandate that hits us first is the termination of payment of union dues by paycheck deduction, effective 1 July 2023. As of July 1, members must pay dues directly to UFF. Our state affiliate, the Florida Education Association - which has over 150,000 members in K-20 institutions - has arranged for a digital finance company to set up electronic dues payments from checking accounts.
eDues Payments Transition is Underway
UFF membership dues payments are moving off-campus. As of July 1, it will no longer be possible to pay union dues by paycheck deduction. UFF, and its state affiliate, the Florida Education Association (FEA), is transitioning to electronic dues ("eDues") payments on the same (biweekly) schedule and the same amount (1% of salary) that we have now. FEA has posted a FAQ and a You-Tube video on the transition.
We plan to start eDues on July 1 (when USF will be required by law to stop all paycheck dues deductions) so we need all members to make the transition by then. We thank all members for their patience and their support.
The other mandate is that each chapter - including the USF chapter - have as dues-paying members at least 60% of the employees that it represents (this percentage is called membership density). Most university chapters - including USF - must have enough dues-paying members by March 2024 (in March, 2003, USF "voluntarily" recognized UFF as the collective bargaining agent for the employees in the UFF USF Bargaining Unit). Since 35% of the UFF USF employees represented by UFF are dues-paying members, UFF must persuade an additional 25% to join by March. If the USF Chapter has not reached 60% membership density by March, UFF will no longer have legal standing to bargain contracts - just as the current contract is approaching the end of its lifetime. At this point, the UFF would seek "recertification" and faculty may remember 2003 as a bit of a zoo. The reality is that for those UFF USF employees who were content to let their colleagues pay for a union and to do its work, this is fish or cut bait time.
Join the Campaign
Recruiting new members while moving current members from paycheck deduction to eDues requires "organizing," and while fliers, email blasts, You-Tube videos, and perhaps billboards and TV commercials are all very well, there is no substitute for personal contact. We need organizers!.
UFF is now hiring UFF members willing to work part time ($20 an hour) to not only meet these legislative mandates but also build and strengthen UFF. If you are a UFF member and are interested in making an impact, sign up today.
And if you are not a UFF member, now is the time to join the movement.
LOGISTICS
The next chapter meeting will be tomorrow Friday, May 5, at 11:30 am (notice that it's half an hour early) on USF Tampa campus in EDU 415 and on Zoom; for the Zoom link, contact the Chapter Secretary. All UFF USF employees are welcome.
the Chapter Secretary
. Come and join the movement.
Membership: Everyone in the UFF USF System Bargaining unit is eligible for UFF membership: to join, simply fill out and send in the membership form.
NOTE: The USF-UFF Chapter website is http://www.uff.ourusf.org, and our e-mail address is uff@ourusf.org.
About this broadcast: This Newsletter was broadcast from uff.ourusf.org, hosted at ICDsoft.com, and is intended for all members of the UFF USF Bargaining unit (USF faculty and professionals at most departments). A (usually identical) version will be broadcast to USF-News and USF-Talk from mccolm@usf.edu.
If you do not want to receive the UFF Biweekly, you can unsubscribe below or contacting the Chapter Secretary. If you do not receive the Biweekly, but want to, contact the Chapter Secretary.